Soldering Frames
Soldering Frames are primarily used to transport PCBs in soldering machines while simultaneously fixating "through-hole components" by using Top Hat Systems. With our specially developed ESD material, which is able to endure high temperatures and chemical resistance, the ISOVOLTA Soldering Frames are able to withstand thousands of soldering cycles.
ISOVOLTA Soldering Frames and masks are custom-made innovative products.
The design of the mask is defined by the PCB, the machine and the customers tasks.
Possible combinations of the ISOVOLTA Universal Frame, ISOVOLTA Soldering Frame and the ISOVOLTA Flexible Suppressing System. (ISOVOLTA Suppressing System: ensure suppression and alignment of critical PTH components.)
Combination ISOVOLTA Soldering Mask and ISOVOLTA Suppressing Panel for reliable and accurate alignment of PTH components.
Top Hat Systems
ISOVOLTA Soldering Frames and Systems, incl. Top Hat System to suppress and align PTH components, are custom-made for your specific PCB and the requirements of your soldering machine. ISOVOLTA ensures the design of your perfect soldering result – only needing minor definition, which components have to be soldered or which areas of the PCB have to be protected.
ISOVOLTA also creates your solution for pushers or components in special angle. To ensure the accordance with your requirements, ISOVOLTA offers 3D models and drawings for your approval before the production will start.
Stepless-adjustable clamp-bridges length and crosswise facilitate the secure fixation of single PCBs or PCB-panels in rectangular shape and various sizes.
Custom-made Universal Frames for wave and selective soldering machines also for your SMD process.
Flexible Top Hat System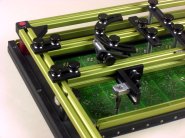 ISOVOLTA Flexible Top Hat System offers the possibility to create the best solution for your prototypes or small series in a fast and easy way. The Top Hat Frame is adapted to your transport frame or it is combinable with our Universal Soldering Frames.
The ISOVOLTA Starter Kit is adaptable and adjusts to your requirements, enabling you to start your soldering project.
Magnetic Carrier
The ISOVOLTA Magnetic Carrier Development ensures a reliable fixing of flexible PCB's through the whole SMD process (printing, picking and placing to the reflow oven). Permanent magnets combined with a metal foil with openings in the range of the SMD pads locate the FPC reliable on the carrier. Also openings in the carrier in the range of the SMD pads will guarantee a good temperature course during the process.
An Operator Plate supports in placing the FPS in the right position on the carrier and in fastening the metal foil to execute the printing process undisturbed.
The ISOVOLTA Magnetic Carrier life time is at least 10 times higher than of an outdated sticky solution.
Coating Frames
Product-specific Coating Frames are used for single or double-sided component painting. Optimal results are achieved (ensured) by intermittent fixing.
The ISOVOLTA Press Fit Tools are developed for presses used to insert pre-assembled press-fit connectors into the holes of a printed circuit board. ISOVOLTA offers a wide range of customised Press Fit Tools for manual presses up to full automatic pick and place machines with board and component feeders.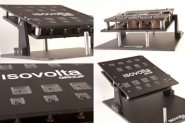 Router Tools
The ISOVOLTA specific Router Tools support in cutting your PCB from a panel independent of which further processing option you will use. ISOVOLTA will create the solution for your challenge.

Hand Soldering Tool
ISOVOLTA Hand Soldering solutions suppress and align critical PTH components, freeing your hands for comfortable manual hand soldering.
A turning feature allows you to quickly flip the Mask upside down for easy and quick handling ensuring process reliability while increasing efficiency.
For further information please contact us at:

+49 2272 9181 0