laminated paper
With almost 100 years of tradition, hard paper is one of the classic insulating materials. It consists of high-quality paper as a carrier material and a thermosetting binder (phenol/formaldehyde resin). Used as an electrical insulating material for simple base plates to complicated components for electronics, this material offers a range of IC standardised types, which have been supplemented by special types for increased strength, self-extinguishing and with a decorative surface.
Low weight and easy machinability, combined with excellent mechanical and electrical properties, offer the user an inexpensive construction material. By using modern processes, hard paper can be machined with high precision and can thus also be used for precision parts if the properties are taken into account.
Inbord - MKHP - melamine laminated decorative paper
Inbord is the classic insulating material for components in medium-voltage switchgear up to 30 kV, which has been used for more than 20 years. It is preferably used for partition walls, rear walls, covers and, to a very special extent, for fuse panels.
Well over 20,000 switchgears have been equipped with Inbord since 1996. The material has proven itself both in the tropics and in arctic regions.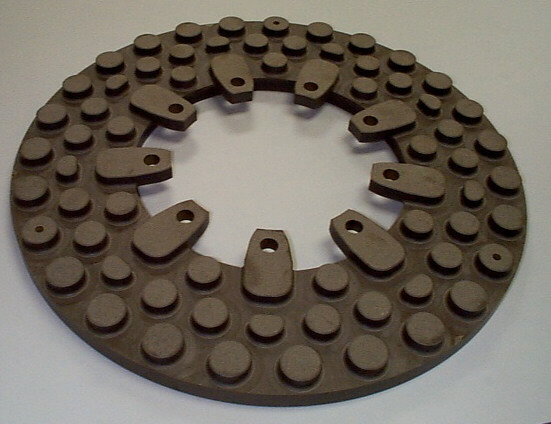 The very good insulation properties, high mechanical strength, chemical resistance and excellent tracking resistance with CTI 600 offer the user a high level of safety. The surface coating is lightfast, resistant to embers and largely insensitive to damage.
As a thermoset, Inbord is infusible and halogen-free. In case of fire, therefore, no spreading, corrosion or dripping occurs. The materials are subject to constant quality control by the manufacturer. Switchboard constructions using Inbord pass the test for resistance to arc faults in accordance with PHELA guidelines No. 2, 1974 edition.
Inbord is a good alternative to hard mat, whereby the low weight and the significantly lower price with approximately the same technical properties are very essential. Inbord materials are ecologically harmless and can also be adapted to local conditions on construction sites using conventional tools. However, we recommend that, if possible, the design documents are laid out in such a way that the parts can be produced in our factory ready for installation. This creates advantages for the user in terms of appearance, functionality and assembly effort. Inbord materials offer a wide range of applications for self-supporting components in low- and medium-voltage installations: switchgear cubicle and pole partitions, bushing plates, bulkheads, slide-in protection plates, busbar supports and contact protection plates.